<div id="google_translate_element"></div><script type="text/javascript"><!-- [et_pb_line_break_holder] -->function googleTranslateElementInit() {<!-- [et_pb_line_break_holder] --> new google.translate.TranslateElement({pageLanguage: 'en', includedLanguages: 'de,en,es,fr,id,it,ja,ko,pt,ru,th,tl,zh-CN,zh-TW', layout: google.translate.TranslateElement.InlineLayout.SIMPLE, autoDisplay: false}, 'google_translate_element');<!-- [et_pb_line_break_holder] -->}<!-- [et_pb_line_break_holder] --></script><script type="text/javascript" src="//translate.google.com/translate_a/element.js?cb=googleTranslateElementInit"></script>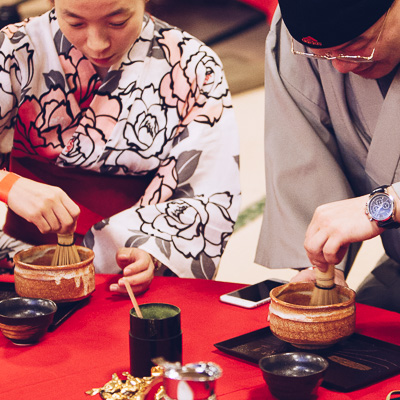 Japanese Green Tea Experience
Said to be one of the healthiest drinks you can find, Japanese green tea is getting more and more popluar every year. Not only as a drink, but also as flavoring for ice cream and many other sweets.
Learn how to prepare a bowl of matcha, the choice of Japanese green tea used at traditional tea ceremonies, and have a taste of this wonderful drink.
Experience Information
Title: Japanese Green Tea
Time: 15 min
Option: Yes. JPY 2,000
Suitable for: All ages